Given certain misconceptions around – and resistance to – prescription sunwear, it's important to convey the advantages of prescription sunglasses to your patients. Here's a breakdown of the benefits your patients will care about the most, and some tips and resources you can use to start the conversation–like the infographic below, which puts sunwear pricing into perspective.
Benefits of prescription sunglasses
1. Disease prevention
Most patients aren't aware that the sun can harm the eyes and the skin around the eyes. Use research to educate them during their visit. For example, the National Eye Institute has shown that UV rays can increase the risk of cataracts, and up to 20% of cataracts may be caused by overexposure to UV rays, according to the World Health Organization.
Other eye conditions can result from too much UV exposure – such as photokeratitis, macular degeneration, melanoma, and pterygium.
2. Safety
Sunglasses protect against sun damage to the eyes and other elements when outdoors. Sunglasses guard against harsh wind, dust, sand, and other airborne debris that irritate the eyes or could scratch the cornea.
Make this point with your patients: when the eyes are protected and you're seeing at your best, you're also protecting others. For example: when driving with polarized lenses, your reaction time is noticeably faster than when not wearing sunglasses. Sunwear reduces glare and keeps you safe when navigating situations that require full attention, such as driving or riding a bike.
3. Less strain, fewer headaches
Your patients probably know about the term "blue light" as it relates to working in front of a screen for hours a day — and that it can cause digital eye strain and a number of other symptoms, such as headaches, tired or burning eyes, and more.
Your patients may not know that blue light can come from the sun, and in fact, 15 minutes in the sun equals 12 hours in front of a screen1. An estimated 25% to 30% of sunlight consists of solar blue light rays, so you can make an impression on your patients with this info while diving into the harm of solar blue light exposure.
4. Improved dark adaptation
Sunglasses increase visual clarity by blocking UV rays and reducing glare during the day. They can also have a positive impact on sight at night.
According to the American Optometric Association (AOA), studies have shown that daytime exposure to ordinary sunlight can produce temporary but cumulative aftereffects on dark adaptation and night vision. In addition to daytime benefits of sunglasses, your patients should know that high-quality polarized sunglasses can also help reduce night vision loss.
5. A better outdoor experience, year-round
Non-wearers often rely on compensatory behaviors (some extreme) when outdoors. Through discovery, you may find that your patients squint, wear non-prescription sunglasses, or avoid the sun completely. Prescription sun lens users have a better outdoor experience – even in winter. They enjoy the comfort, clarity, protection, and emotional freedom that comes with prescription sunglasses.
Checklist: helping your patient choose prescription sunglasses
Prescription sunwear is the best eye health solution to protect the eyes, eyelids, and skin around the eyes from sun-related damage. With so many advancements in lens technology just over the last decade, these are the features your patients should look for in prescription sunglasses:
100% UV protection

Solar blue light

protection
Comfort
Visual clarity
Enhanced contrast
Impact protection
Glare reduction
Extra darkness outdoors
Style variety
Affordability
Indoor/outdoor transition (optional)
Some patients may be unwilling to carry two pairs of glasses and therefore think prescription sun lenses are a hassle. Approach this objection by recommending a photochromic option, providing wearers with the lens comfort they need in all different light situations possible. This allows a range of combinations that suit different wearer needs and can be tailored for almost all HOYA lens designs.
Choosing the right frames
Once you have piqued your patients' interest in a pair of prescription sunglasses, move on to the frames. Though the quality of sunglasses is usually determined by the absorptive characteristics of the lenses, people typically focus on the comfort, fit, and appearance of the frame.
Frame selection is even more important for people who need prescription sunglasses. These patients often believe they have fewer choices in frame styles than nonprescription wearers. Fortunately, you can tell them that prescription sun lenses are not required to be fit in sunglass frames, specifically. They can be fit in almost every frame in your office.Your patients (including contact wearers) do not have to sacrifice fashion for functionality. Lenses like our Sensity® Shine sun lenses offer patients more: extra darkness outdoors, extra style and exclusive look, 100% protection against UV rays, and glare reduction.
Reference our white paper about choosing the right sunglasses frames for your patients.
Tips for the patient conversation
✓ Start with your questionnaire or ask questions mid-exam
Getting the conversation started is often the hardest part for eye care providers. Add questions to your intake form to help initiate the conversation. Focus on family history, time spent outdoors, and time driving. Another tip: ask them to bring their prescription sunglasses to the exam during scheduling or confirming their appointment.
If you don't have a patient questionnaire, your second opportunity is during the slit lamp part of the exam. You'll start to pick up on changes in the anatomy of the eye, including early signs of UV damage, which is a good moment to talk about the sun. This presents a natural segue into the topic of prescription sunwear, rather than feeling like a hard sell.
✓ Talk about eye anatomy
You're the eye health expert. To help your patients understand the danger of sun damage, start by breaking down the major structures of the eye, use visual aids. Follow up with a brief explanation of how the sun can inflict damage on those parts specifically, from the eyelids, the skin around the eyes, and the front surface of the eye to the lens and retina.
✓ Stay conversational
As you discuss the importance of prescription sun lenses with your patients, keep it conversational and educational. Show concern and care rather than being too assertive or authoritative. This makes patients more comfortable to open up about their barriers to sun lenses.
✓ Put pricing into perspective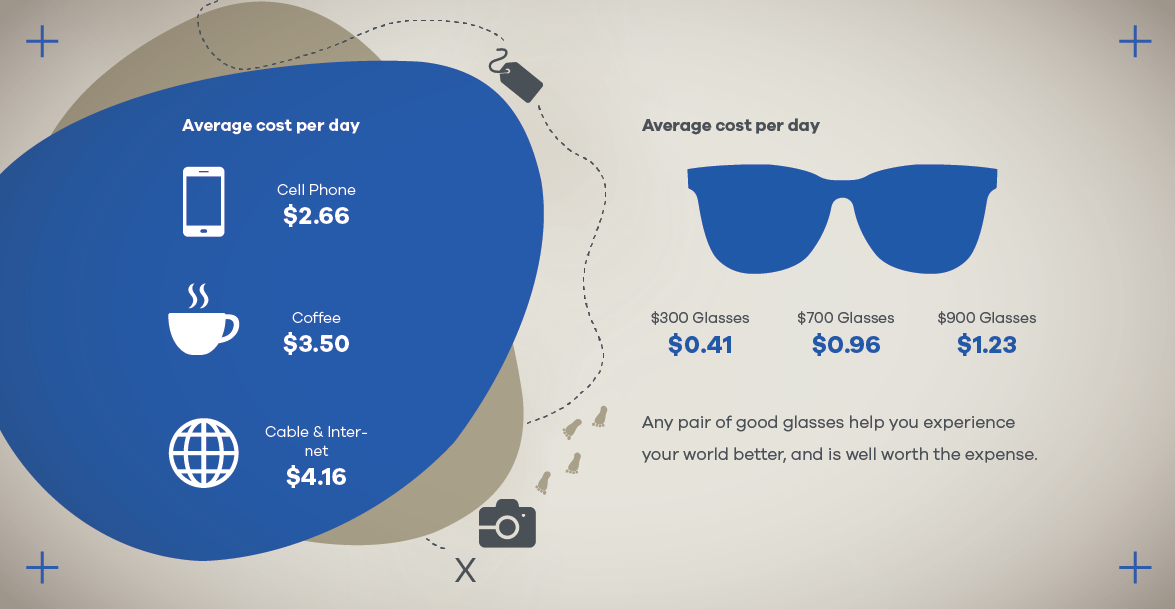 People believe that prescription sun lenses are expensive and worry that they might invest in glasses that will get lost or broken. Help patients save by using insurance, maximizing benefits, utilizing FSAs or BOGO half-off deals. Inform patients that because of the higher value, most people take better care of prescription sunglasses.
Keep the conversation going through sun season
Sunglasses can benefit your patients and your practice all year long. Use these tips and benefit breakdown to offer your patients value and safety this season.
1. Vision Ease internal measurements; BlueSpec light meter (425-465 nm).